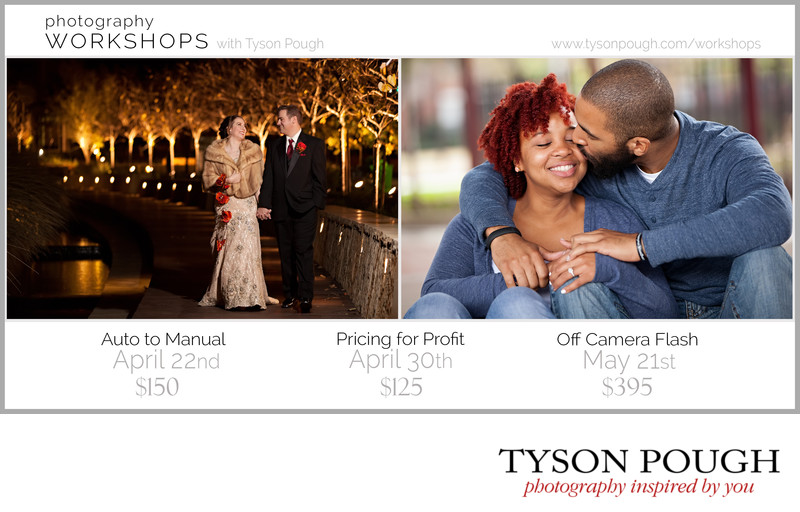 Auto to Manual
Are you wanting more control of how your images come out in-camera? Cameras are very advanced and does a great job of capturing images; however, they don't always capture an image the way you would like.
If you're wanting more control, the Auto to Manual Workshop is right for you!!!
When you leave this workshop you will have a greater understanding of how to achieve proper exposure using ISO, aperture and shutter speed.
Register Now for Auto to Manual!!!
Off Camera Flash
Why off camera flash? Being able to use external flashes will give you the confidence that you can handle any lighting situation.
In this class, you will be taught how to use external lighting as the main light, rim lighting, and fill. Not only will we discuss how to use lighting but when. We will also cover the lighting modifiers that I use and the effects they have on the quality of light.
Class participants should already know how to control exposure manually (ISO, shutter, aperture).
Register Now for Off Camera Flash!!!
Pricing for Profit
Pricing is very personal. There are no two people with the same needs and desires; therefore, no one but you can figure out how much you need and what you should charge.
In Pricing for Profit you will learn how to calculate your cost of doing business. We will discuss business models which can help you to figure out what's best for you and your business. Then we will figure out the value of your time and how to price your products to ensure a profit.

Register Now for Pricing for Profit!!!